ANNAPOLIS, Md. (August 1, 2022) – Fans of Ledo Pizza can now score irresistibly delicious rewards just for being avid, square-pizza lovers!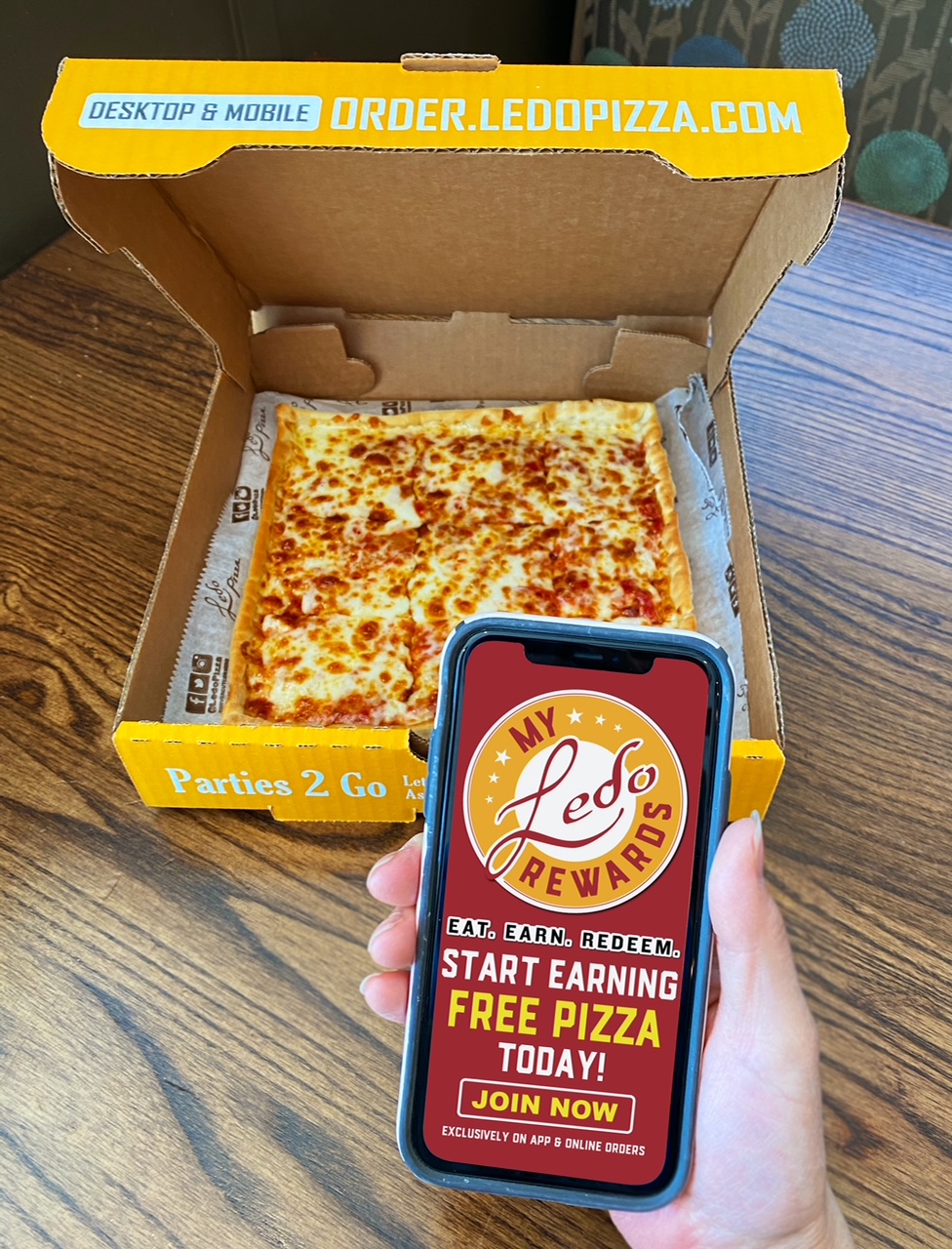 The popular Maryland-based pizza concept rolled out its new My Ledo Rewards Program, in which frequent guests receive points for ordering online or on the Ledo Pizza App. Guests can even score a FREE 8-inch cheese pizza after their first order after signing up! My Ledo Rewards members will receive three points for every dollar spent when ordering online and will receive a $5 off reward once they reach 500 points.
"We are so excited to reveal our first rewards program this summer," said Ledo Pizza President Jamie Beall. "We have so many amazing, loyal fans and wanted to give a special thank you to each of them by providing an opportunity to earn rewards and free pizza in exchange for the support they give us. We hope this not only gives our current guests something to look forward to but also creates an even bigger community of future Ledo Pizza fans!"
To learn more about the My Ledo Rewards Program, visit myledorewards.com. To sign up, visit ledo.myguestaccount.com.
At Ledo Pizza, every pizza is rolled to order with fresh handmade dough topped with high-quality ingredients, like its famous thick pepperoni and fresh sausage. The menu also features freshly baked subs, lasagna, spaghetti, jumbo wings, soup, salad and cheesy garlic bread. To learn more about Ledo Pizza, visit ledopizza.com.
About Ledo Pizza; Founded in 1955 in the suburbs of Maryland and now headquartered in Annapolis, Maryland, Ledo Pizza is a regional pizza franchise that is dedicated to offering a fresh, affordable menu served in a family-friendly atmosphere. Frequently awarded "Best Pizza" recognition in communities across the U.S., Ledo Pizza currently has more than 100 locally owned locations in seven states with multiple new restaurants in the pipeline. Ledo Pizza believes strongly in community involvement and the brand is a proud partner of the Baltimore Ravens. Ledo Pizza is also the Official Pizza of the Maryland Terrapins. For more information, visit ledopizza.com and follow the brand on Facebook, Instagram and Twitter.