ANNAPOLIS, MD. (Feb. 13, 2023) – Ledo Pizza is ready to help hockey fans score at watch parties through its special with John Carlson, which features a hot new sauce that is sure to make ice melt and mouths water.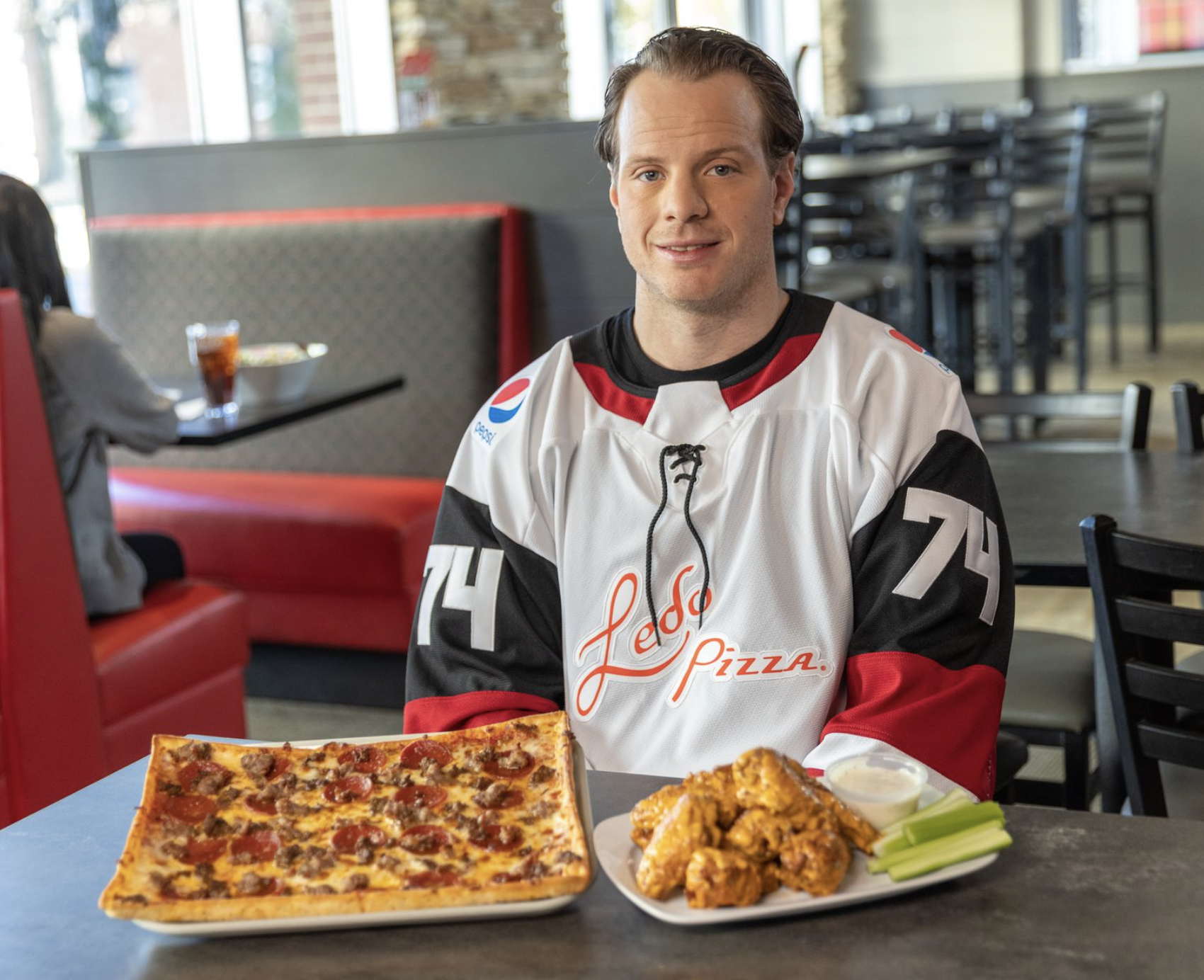 Starting Monday, Feb. 13, fans can enjoy John Carlson's Hard-Hitting Sauce — a spicy ranch — smothered on jumbo or boneless wings for a limited time! Ledo Pizza will also offer a 14-inch cheese pizza, six jumbo wings, and two 20-ounce Pepsi bottle products for $22.99 as a carryout deal, and an 18-inch two-topping pizza, eight-piece cheesy garlic bread and a half-pound of boneless wings for $36.99 as a family meal deal.
"I'm excited to partner with Ledo Pizza and bring even more flavorful options for communities to enjoy while watching our — or any — hockey games," said Carlson, a defenseman and alternate captain for the NHL's Washington Capitals. "I can't wait to see if our fans can handle the heat with our spicy hard-hitting sauce. If not, at least it's a great way to warm up the action on the ice!"
The John Carlson specials will be available at all Ledo Pizza locations until the end of the year.
"Ledo Pizza is proud to have several locations in Washington, D.C., and to partner with John from the Capitals' ice hockey team," said Ledo Chief Marketing Officer Will Robinson. "We're incredibly thrilled and honored to have this opportunity with him and offer delicious specials suitable for families, friends and parties."
At Ledo Pizza, every pizza is rolled to order with fresh handmade dough topped with high-quality ingredients, like its famous thick pepperoni and fresh sausage. The menu also features freshly baked subs, lasagna, spaghetti, jumbo wings, soup, salad and cheesy garlic bread. To learn more about Ledo Pizza, visit ledopizza.com.
About Ledo Pizza; Founded in 1955 in the suburbs of Maryland and now headquartered in Annapolis, Maryland, Ledo Pizza is a regional pizza franchise that is dedicated to offering a fresh, affordable menu served in a family-friendly atmosphere. Frequently awarded "Best Pizza" recognition in communities across the U.S., Ledo Pizza currently has more than 100 locally owned locations in seven states with multiple new restaurants in the pipeline. Ledo Pizza believes strongly in community involvement and the brand is a proud partner of the Baltimore Ravens. Ledo Pizza is also the Official Pizza of the Maryland Terrapins. For more information, visit ledopizza.com and follow the brand on Facebook, Instagram and Twitter.