ANNAPOLIS, Md. (Dec. 10, 2021) – Already the Official Pizza of the Maryland Terrapins, Ledo Pizza is continuing to show its support for the athletic program by partnering with Terps basketball player Donta Scott.
The Maryland-based pizza brand is uniting with Scott to use his name, image, and likeness in its second NCAA sponsorship, following a deal with Terps wide receiver Dontay Demus. Scott will serve as a Ledo Pizza ambassador through April. 5, 2022.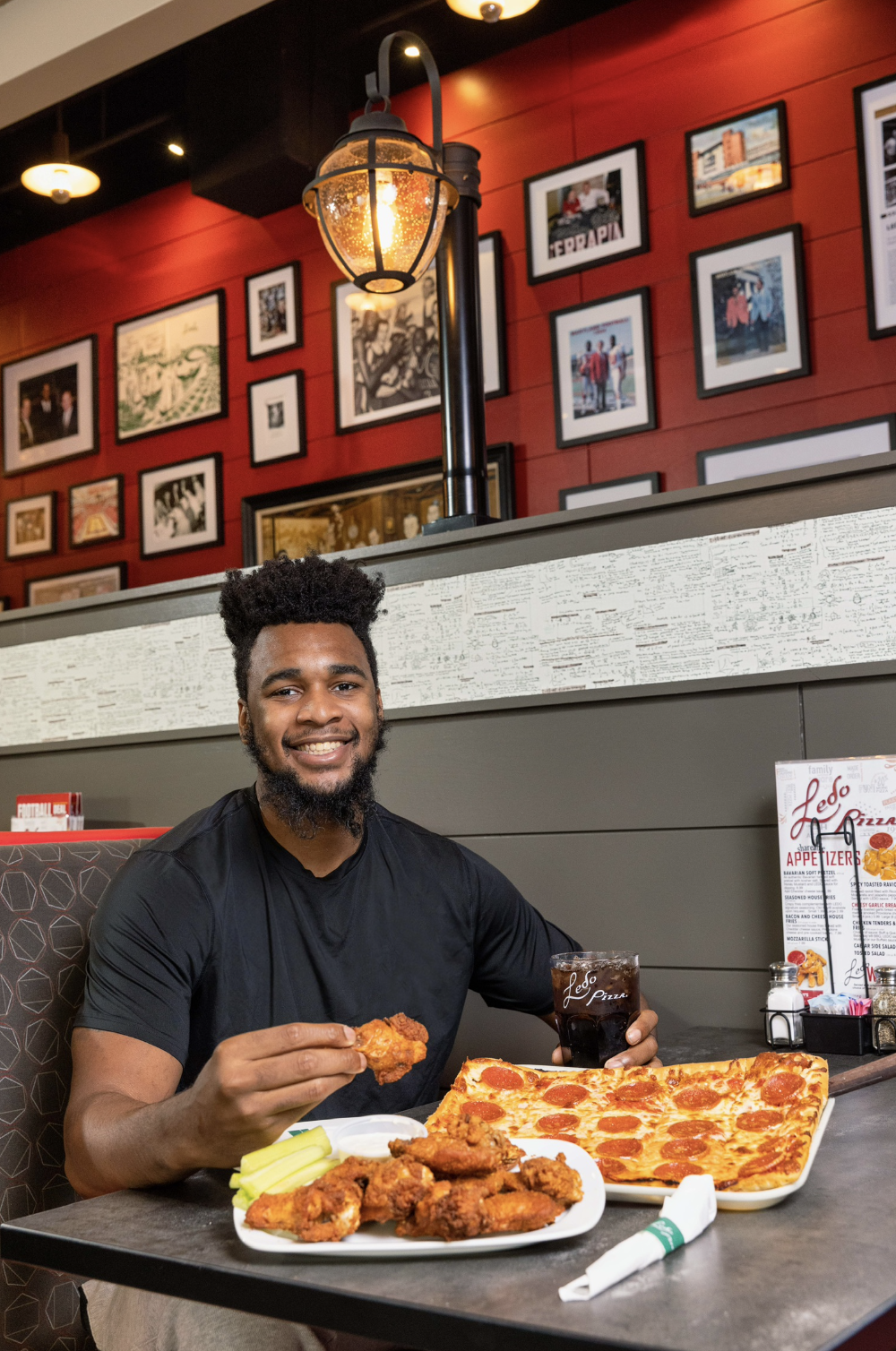 The six-foot-eight-inch power forward from Philadelphia is a junior pursuing a major in Family Science. Scott was named to the 2022 Karl Malone Power Forward of the Year Watch List and rated the No. 49 player in the country by CBS Sports for the 2021-22 season. In the 2020-21 season, Scott recorded Maryland's fifth-highest single-season three-point percentage in school history, shooting 43.8% from behind the arc. Scott also recently authored his first book, "WIRED DIFFERENTLY: My School Journey," a short story reflecting on his own experiences to encourage young people who learn differently to overcome the obstacles in front of them.
"We're beyond excited to sponsor another talented Terp athlete and honored to be able to team up with such a great young man like Donta," said Ledo Pizza CMO Will Robinson. "As the official pizza of the Maryland Terrapins, it couldn't be a better fit to have him rep our brand. We can't wait for fans to join us in cheering on the Terps this basketball season!"
Earlier this year, Ledo Pizza announced its partnership with University of Maryland Athletics to sponsor its men's football, basketball, soccer, and lacrosse teams. Ledo Pizza's special in-stadium offer – eight-inch cheese and pepperoni pizzas – is available at all basketball home games.
At Ledo Pizza, every pizza is rolled to order with fresh handmade dough topped with high-quality ingredients, like its famous thick pepperoni and fresh sausage. The menu also features freshly baked subs, lasagna, spaghetti, jumbo wings, soup, salad, and cheesy garlic bread. To learn more about Ledo Pizza, visit ledopizza.com.
About Ledo Pizza; Founded in 1955 in the suburbs of Maryland and now headquartered in Annapolis, Maryland, Ledo Pizza is a regional pizza franchise that is dedicated to offering a fresh, affordable menu served in a family-friendly atmosphere. Frequently awarded "Best Pizza" recognition in communities across the U.S., Ledo Pizza currently has more than 100 locally owned locations in seven states with multiple new restaurants in the pipeline. Ledo Pizza believes strongly in community involvement and the brand is a proud partner of the Baltimore Ravens. Ledo Pizza is also the Official Pizza of the Maryland Terrapins. For more information, visit ledopizza.com and follow the brand on Facebook, Instagram, and Twitter.