ANNAPOLIS, Md. (Sept. 10, 2022) – The best combination since pepperoni and sausage is back, just in time for football season. Ledo Pizza is proud to announce it is partnering with the Maryland Terrapins for the fourth consecutive year – and Terps fans are the winners!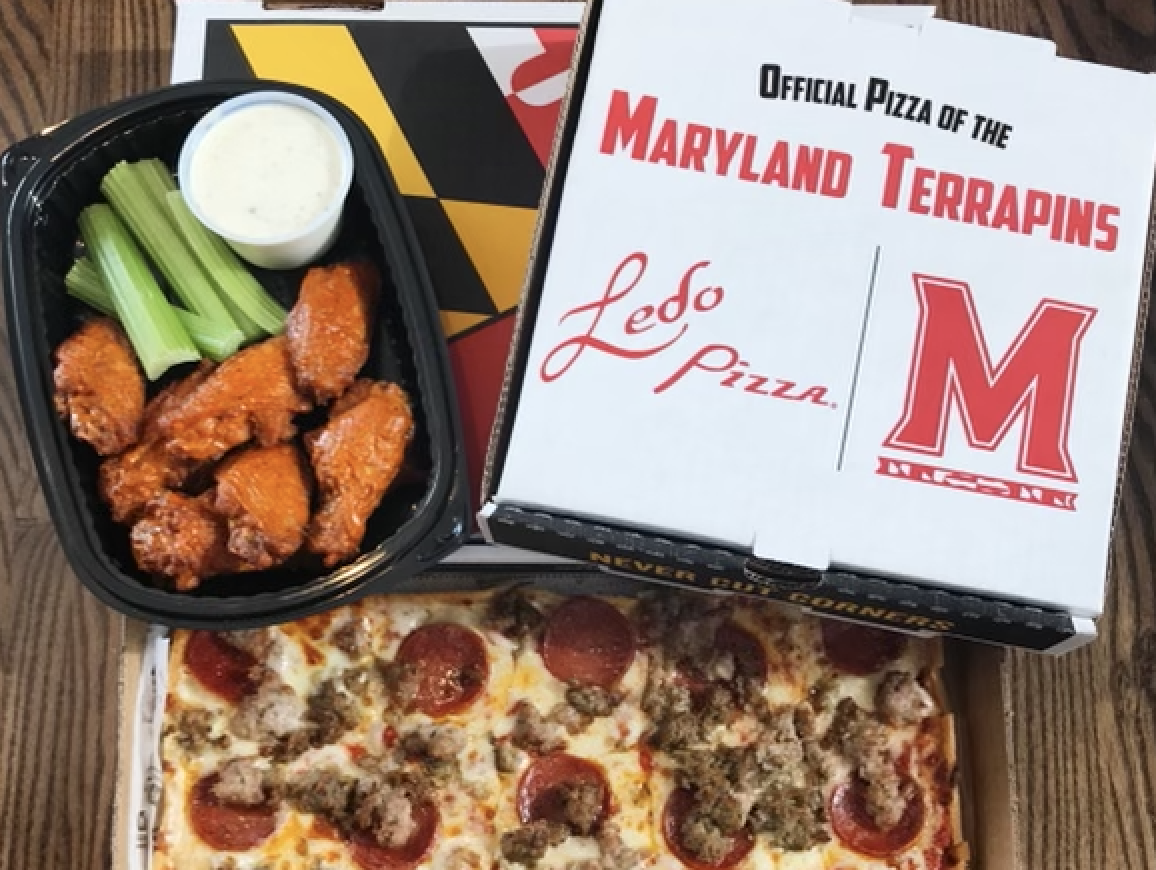 From now through the end of football season, Terps' fans can enjoy an 18-inch two-topping pizza with a large order of cheesy garlic bread and half pound of boneless wings for only $36.99!
Ledo fans can also enjoy their pizza and pigskin together at Capital One Field at Maryland Stadium in Sections 10, 20, and 205. For any eight-inch pizza AND large Pepsi® product purchased in the stadium, fans will receive a FREE University of Maryland bandana.
In addition, any student that attends Thursday Night Open Practices will receive FREE Ledo Pizza and have a chance to play football on the practice field while meeting the players and coaches. The fun starts at 5:45 p.m. on Thursdays at Jones-Hill House practice facility.
"We're thrilled to be the official pizza of the Maryland Terrapins again this year," said Ledo CMO Will Robinson. "Whether you're watching the game at home with friends, or heading to the stadium to cheer on the Terps in-person, Ledo Pizza will be there to make the victories taste even better!"
The Ledo Pizza in College Park on Knox Road will be open at 10 a.m. for every home game, ready to help Terps fans with all their tailgating needs. To learn more about this location and see all of its offers, visit ledopizza.com.
At Ledo Pizza, every pizza is rolled to order with fresh handmade dough topped with high-quality ingredients, like its famous thick pepperoni and fresh sausage. The menu also features freshly baked subs, lasagna, spaghetti, jumbo wings, soup, salad and cheesy garlic bread. To learn more about Ledo Pizza, visit ledopizza.com.
About Ledo Pizza; Founded in 1955 in the suburbs of Maryland and now headquartered in Annapolis, Maryland, Ledo Pizza is a regional pizza franchise that is dedicated to offering a fresh, affordable menu served in a family-friendly atmosphere. Frequently awarded "Best Pizza" recognition in communities across the U.S., Ledo Pizza currently has more than 100 locally owned locations in seven states with multiple new restaurants in the pipeline. Ledo Pizza believes strongly in community involvement and the brand is a proud partner of the Baltimore Ravens. Ledo Pizza is also the Official Pizza of the Maryland Terrapins. For more information, visit ledopizza.com and follow the brand on Facebook, Instagram and Twitter.