ANNAPOLIS, Md. (March 7, 2022) – As college basketball enters its most exciting time of year, Ledo Pizza and MTN DEW are on a mission to discover what flavor reigns king of the court through its new campaign – Flavor Slam!
From Feb. 28 through April 15, the popular Maryland-based pizza brand is partnering with MTN DEW to host weekly flavor pairings, giving guests the opportunity to vote for a chance to gear up and score cool prizes. Through the campaign, Ledo Pizza fans will have the chance to show support for their go-to menu item.
"We're excited for our fans to get a chance to tell us how they feel about each flavor," said Ledo Pizza President and CEO Jamie Beall. "Flavor Slam will be a fun, interactive experience for our fans throughout the final stretch of the college basketball season. We look forward to partnering with MTN DEW and finding out what Ledo Pizza dish dominates!"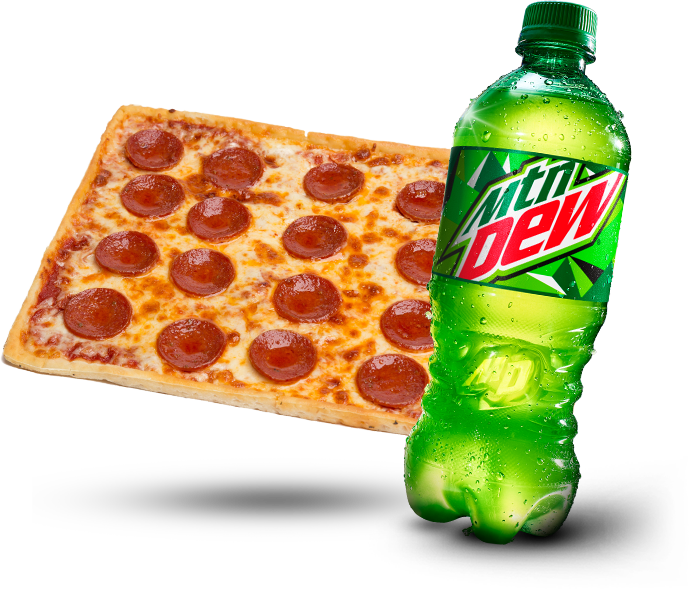 What: Ledo Pizza is partnering with MTN DEW to host Flavor Slam, allowing fans to vote weekly in flavor face-offs for a chance to win prizes.
When: Feb. 28 to April 15.
Where: Guests can participate online at LedoDewFlavorSlam.com.
In addition to Flavor Slam's online voting, Ledo Pizza is celebrating its hometown school in March. As the Official Pizza of the Maryland Terrapins, Ledo Pizza and MTN DEW will surprise College Park residents and University of Maryland students, staff, and faculty with a pop-up experience, featuring FREE Ledo Pizza, coupons, and mini basketballs on March 11.
At Ledo Pizza, every pizza is rolled to order with fresh handmade dough topped with high-quality ingredients, like its famous thick pepperoni and fresh sausage. The menu also features freshly baked subs, lasagna, spaghetti, jumbo wings, soup, salad, and cheesy garlic bread. To learn more about Ledo Pizza, visit ledopizza.com.
About Ledo Pizza; Founded in 1955 in the suburbs of Maryland and now headquartered in Annapolis, Maryland, Ledo Pizza is a regional pizza franchise that is dedicated to offering a fresh, affordable menu served in a family-friendly atmosphere. Frequently awarded "Best Pizza" recognition in communities across the U.S., Ledo Pizza currently has more than 100 locally owned locations in seven states with multiple new restaurants in the pipeline. Ledo Pizza believes strongly in community involvement and the brand is a proud partner of the Baltimore Ravens. Ledo Pizza is also the Official Pizza of the Maryland Terrapins. For 2022, Ledo Pizza President and COO Jamie Beal was named one of Nation's Restaurant News' most influential restaurant executives in the country. For more information, visit ledopizza.com and follow the brand on Facebook, Instagram, and Twitter.
About MTN DEW; MOUNTAIN DEW®, a product of PepsiCo North America Beverages, is the No. 1 flavored carbonated soft drink in the U.S. With its one-of-a-kind citrus taste, MOUNTAIN DEW exhilarates and quenches with every sip. In addition to the original MOUNTAIN DEW and DIET MOUNTAIN DEW®, the permanent DEW® product line includes MTN DEW® KICKSTART™, MOUNTAIN DEW® CODE RED®, MOUNTAIN DEW VOLTAGE®, MTN DEW® Zero Sugar, MTN DEW MAJOR MELON®, MTN DEW MAJOR MELON Zero Sugar, MTN DEW SPARK™ and MTN DEW SPARK Zero Sugar. For more information, check out www.mountaindew.com, www.facebook.com/mountaindew, or follow on Twitter @mountaindew.
About PepsiCo; PepsiCo products are enjoyed by consumers more than one billion times a day in more than 200 countries and territories around the world. PepsiCo generated $70 billion in net revenue in 2020, driven by a complementary beverage and convenient foods portfolio that includes Lays, Doritos, Cheetos, Gatorade, Pepsi-Cola, Mountain Dew, Quaker, and SodaStream. PepsiCo's product portfolio includes a wide range of enjoyable foods and beverages, including many iconic brands that generate more than $1 billion each in estimated annual retail sales.
Guiding PepsiCo is our vision to Be the Global Leader in Beverages and Convenient Foods by Winning with PepsiCo Positive (pep+). pep+ is our strategic end-to-end transformation that puts sustainability at the center of how we will create value and growth by operating within planetary boundaries and inspiring positive change for the planet and people. For more information, visit www.pepsico.com.