Each Entree Serves 8-10 People
All entrees served with garlic bread.
Our own five-cheese lasagna made with whole milk Mozzarella, Ricotta, smoked Provolone, aged Romano and Parmesan with noodles all layered with seasoned ground beef, LEDO sauce, herbs & spices.
Tender chicken topped with LEDO sauce and melted Provolone cheese served with spaghetti.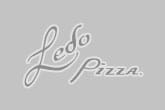 Tender fettuccini noodles tossed with our spicy meat sauce. Garnished with fresh basil.
Our light and creamy Alfredo sauce complements a blend of marinated, sliced chicken breast, broccoli florets & fettucini.
Our light creamy Alfredo sauce complemented with broccoli, mushroom, and spinach.
A generous portion of pasta piled high and covered with LEDO sauce.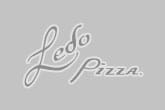 Penne noodles, sausage and LEDO sauce.