Add LEDO Meatsauce:
LEDO meat sauce is a secret, spicy, family recipe. A rich, beef, tomato ragu with a spicy, zesty note. Add LEDO meat sauce to any pasty for 1.99.
A light combination of pasta, sliced chicken, tomatoes and Feta cheese tossed in Lemon Vinaigrette and garnished with fresh mint.
Tender egg pasta rounds stuffed with a creamy blend of All Natural artisan cheeses.
Tender fettuccini noodles tossed with our spicy meat sauce. Garnished with fresh basil.
Our own five-cheese lasagna with beef.
Tender, breaded chicken seasoned with Italian spices topped with LEDO sauce and melted smoked Provolone. Served with spaghetti.
Breast of grilled chicken, topped with LEDO sauce and melted smoked Provolone. Garnished with fresh basil and served with a side salad.Does not include garlic bread but can be provided free upon request.
Add meatballs or Italian sausage. 1.99
Add sauteed mushrooms or green peppers. .99
Add LEDO spicy meat sauce. 1.99
Add The Works! 5.49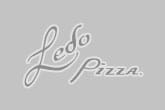 Our Alfredo sauce, marinated sliced chicken breast, broccoli florets and fettuccini.
Our tender fettuccini noodles with creamy Alfredo sauce. Enjoy with your choice of any or all of the following. Add Italian sausage or grilled chicken. 1.99 each. Add sauteed mushrooms, broccoli, green peppers or spinach. .99 each.