Start Your Meal Off Right
With one of our tasty appetizers or add a side to any meal.
LEDO JUMBO WINGS (6) 7.99 (12) 13.99 (18) 19.99 (25) 27.99 (50) 53.99
Our Award Winning jumbo wings served YOUR WAY!
Flavors: Plain, Buffalo, Urban Bar-B-Que® Yella, Sweet Baby Ray's BBQ, Old Bay®, Urban Bar-B-Que® Ranch
When requested, served with crisp, cool celery and your choice of Blue cheese, Ranch, or Chipotle Ranch dipping sauces.
*Voted BEST WINGS in WASHINGTON DC by the Washington City Paper
Our criss-cut fries topped with garlic herb aioli and Feta cheese crumbles. Seasoned with oregano.
Criss-cut fries with Provolone, bacon and Cheddar cheese sauce.
White meat chicken with LEDO Buffalo sauce, topped with melted Provolone and Blue cheese crumbles.
Breaded ravioli filled with Ricotta, Mozzarella and jalapeño peppers. Served with LEDO sauce.
Choice of sauce. Sweet Baby Ray's BBQ, LEDO sauce,  Urban Bar-B-Que® Yella, Honey Mustard, Urban Bar-B-Que® Ranch or our LEDO Buffalo sauce.
Upgrade your fries on us. Add Old Bay® Seasoning for some Fun!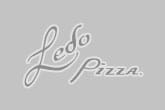 Ask your server about our soup of the day.